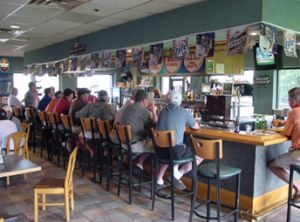 Try Our Famous Half Pound Hamburger – You'll Love Every Ounce of It.
For those who prefer good old American food before or after their round, the C.K. Mulligan Bar and Grill, located in the Clubhouse, is a perfect choice. C.K. Mulligan is famous for its half-pound burgers, chili, jumbo hot dogs, Italian sausage sandwiches and our grilled chicken sandwich.
Beverage carts filled with all the popular refreshments frequently makes rounds on the golf course to help keep your thirst satisfied.
For golfing gourmands, after you putt out on nine, there is an outdoor grill off the 10th tee with marvelous Italian sausages, huge hot dogs and brats – and a variety of cold ones. The aroma of grilled sausages will hook you.